Agitated Nutsche Filter & Dryer (ANFD)
ANFD (Agitated Nutsche Filter Dryer) is a kind of multi-functional filtering, washing , drying (three in one ) machine, it is a batch type fully closed process equipment for solid-liquid separation, washing and drying, which is widely used in chemical industry, fine chemical industry and pharmaceutical process industry.
Our ANFD's are innovatively designed and engineered to help improve plant operational processes efficiency. We can also provide ANFD's with barrier isolator (Glove box) technology for contained discharge and/or charging operations.
We are experienced in process media filtration and drying performance and provide equipment with high levels of safety and quality that meets all appropriate industry regulations.
AGITATED NUTSCHE FILTER AND FILTER-DRYER Drive assembly consist of Motor with Speed reducer, Lantern assembly with Stuffing-box Seal is provided. Manual/Hydraulic system is provided for movement of agitator and discharge Valve. Control Panel with Motor control relay ,fuse indicating lamp which will be installed in the safe area.
The Agitated Nutsche Filter – ANFD consists of a cylindrical shell with top dished and welded flat bottom. The ANFD base Steel plate is stiffened with supports welded under the base steel plates.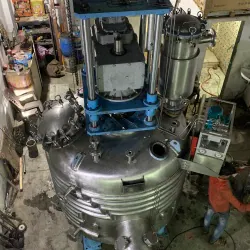 All Equipment & Spare Parts Of Agitated Nutsche Filter & Dryer.
Agitator Hydraulic cylinder
Cake Discharge Valve
Cylinder Bottom UP
Down Cylinder
Mechanical seal & Bellow
Filter Cloth
Segment Patti and perforated jali
Cloth Fitting Bolt
Gear Box
All type O-ring & Gasket Sampling   
Valve Rotary joint
Shaft & Blade
I bolt
Agitated Nutsche Filter & Dryer
Standard Specifications
MODEL

FILTER AREA (M)

WORKING VOLUME (LITERS)

AGITATOR MOTER POWER (HP) FILTER DRYR

MAX . CAKE VOLUME(stu ffing Box ) (liters)

MAX . CAKE VOLUME

(Mechnical seal) (leters

DIAMETER (MM)

LENGTH (MM)

WORKIG HEIGHT (MM)

DISCHAE CLEARACE (MM)

 

 

A

B

C

D

DT – ANFD – P00

0.125

50

1

1

15

15

450

500

2400

550

DT – ANFD – P0

0.19

110

1

2

35

35

550

600

2500

550

DT – ANFD – P1

0.25

150

2

2

70

55

600

600

2800

750

DT – ANFD – P2

0.5

300

2

3

150

100

800

600

3000

750

DT – ANFD – P3

0.75

580

3

5

225

195

1000

750

3550

750

DT – ANFD – 1

1.13

1000

5

7.5

450

340

1200

900

4050

750

DT – ANFD – 2

1.75

1580

7.5

10

700

530

1500

900

4100

750

DT – ANFD – 2 X

2

2000

.75

10

800

700

1600

1000

4200

750

DT – ANFD -3

2.5

2500

10

10

1100

1000

1800

1000

4450

900

DT – ANFD – 3X

3.1

3000

10

15

1400

1250

2000

1000

4550

900

DT – ANFD – 4

3.4

3500

11

15

1500

1375

2100

1000

4600

900

DT – ANFD – 4X

4

4000

12

15

1800

1650

2300

1000

4650

900

DT – ANFD – 5

4.9

5000

15

20

2200

1950

2500

1000

4700

900

DT – ANFD – 6

5.7

6000

15

20

2570

2275

2700

1000

5060

900

DT – ANFD – 7

7

7000

15

20

3100

3100

3000

1000

2560

900

DT – ANFD – 7X

8

8000

20

25

3600

3600

3200

1000

5400

900

DT – ANFD – 8

9.6

10000

20

25

4300

4300

3500

1000

5820

900

DT – ANFD -9

12.5

12500

25

30

5500

5500

4000

1000

5890

900

DT – ANFD – 10

16

16000

40

60

7150

7050

4500

1000

5910

900
Notes:
DT F Model are Filter only DT-FD
We reserve all the rights to alter the designs without prior notice